Today we leave the big islands to take the ferry to a small one: Yakushima is on our agenda today. Nine years ago, after finishing most of the first harvest at Haruyo and Shigeru Morimoto, we actually went to Yakushima to relax. But when we saw that there was an interesting organic tea garden there, the temptation to meet the people who produce the tea was just too strong. A lot has changed in the tea garden in the 9 years. At that time, Keita Watanabe still lived in Tokyo. In the meantime, Keita, his wife Mariko and their two children have been living in Yakushima for several years and continue to develop the family business with great enthusiasm for experimentation.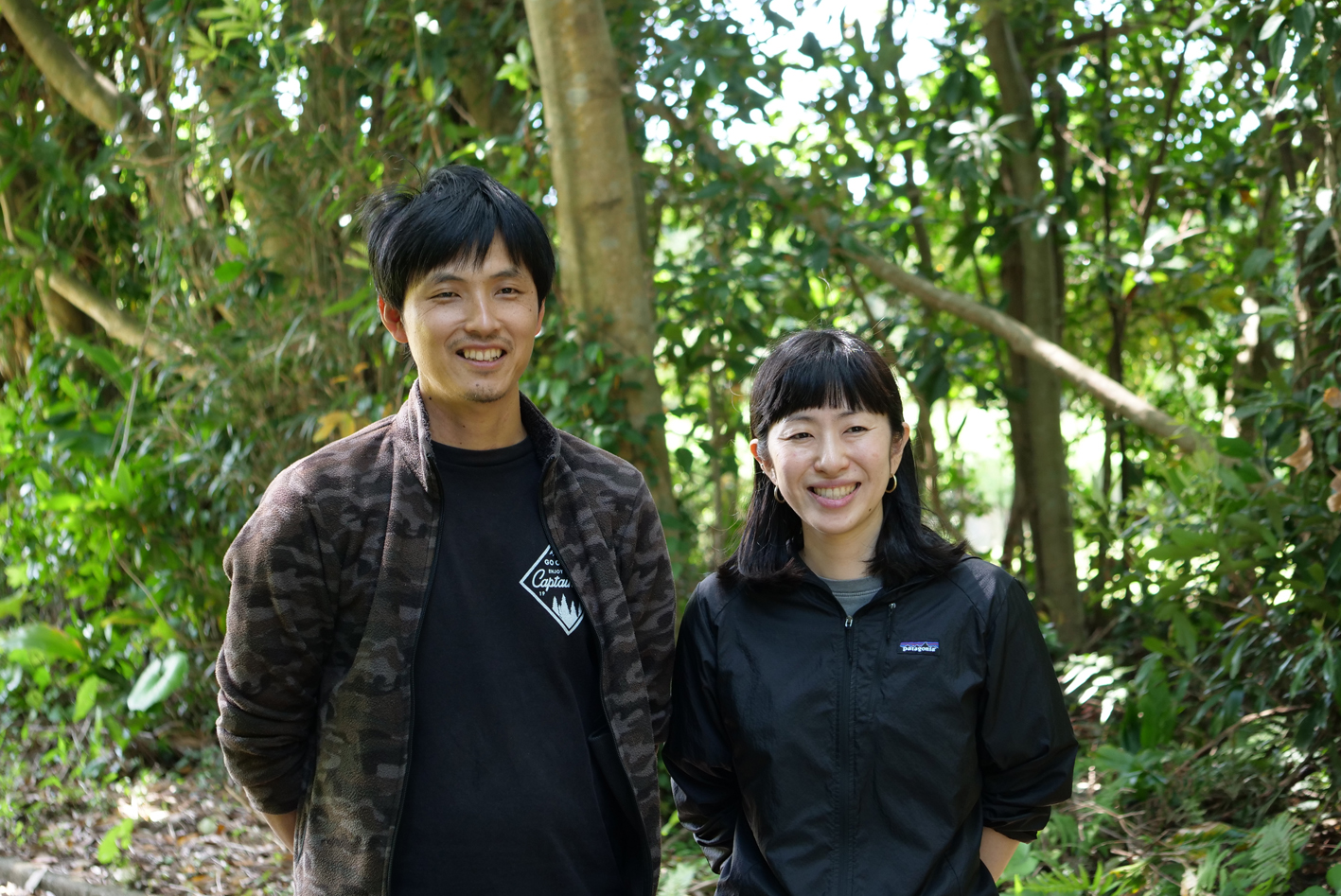 Keita's first tea experiments began with black tea from the first harvest, and for some years now he has also been producing white tea, Haku-Dou. For him, the focus is always on the relationship to nature in Yakushima. His goal is that you can taste what is special about nature in Yakushima in the tea.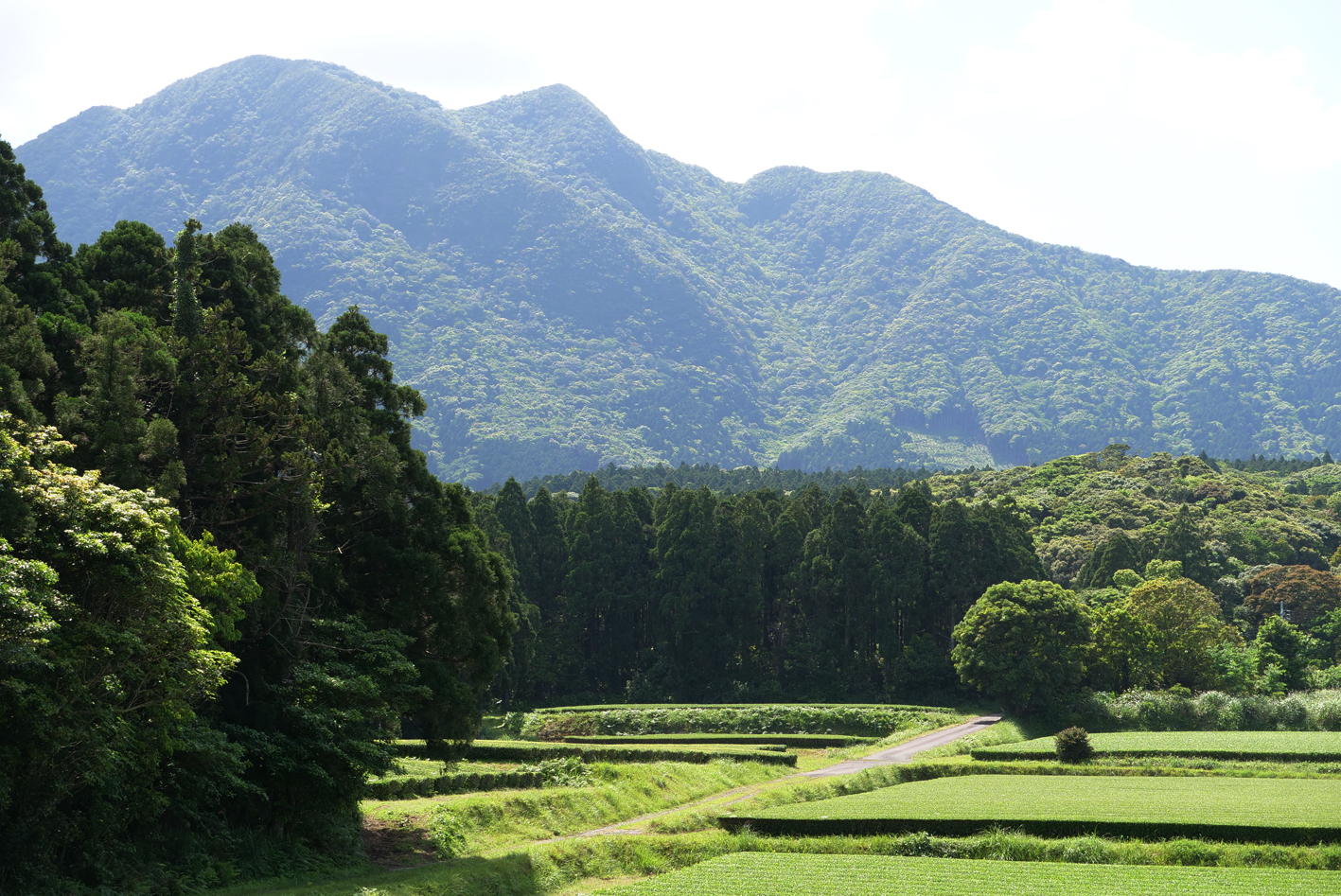 At the ferry port of Miyanoura, Keita awaits us and we drive by car to the tea garden. On the way, he also describes to us that the time of the first harvest was also very short for him this year. The different varieties of bushes, which are supposed to be ready for harvest at different times, were very close together this year, so that there was a lot of work every day, without a break in between. In March it was still unusually warm, but April was again quite cool and rainy. The first harvest day this year was 30th of March with the particularly early variety Kuritawase, which is also a main ingredient in Watanabe Kabuse Shincha and Ryô Aracha Shincha.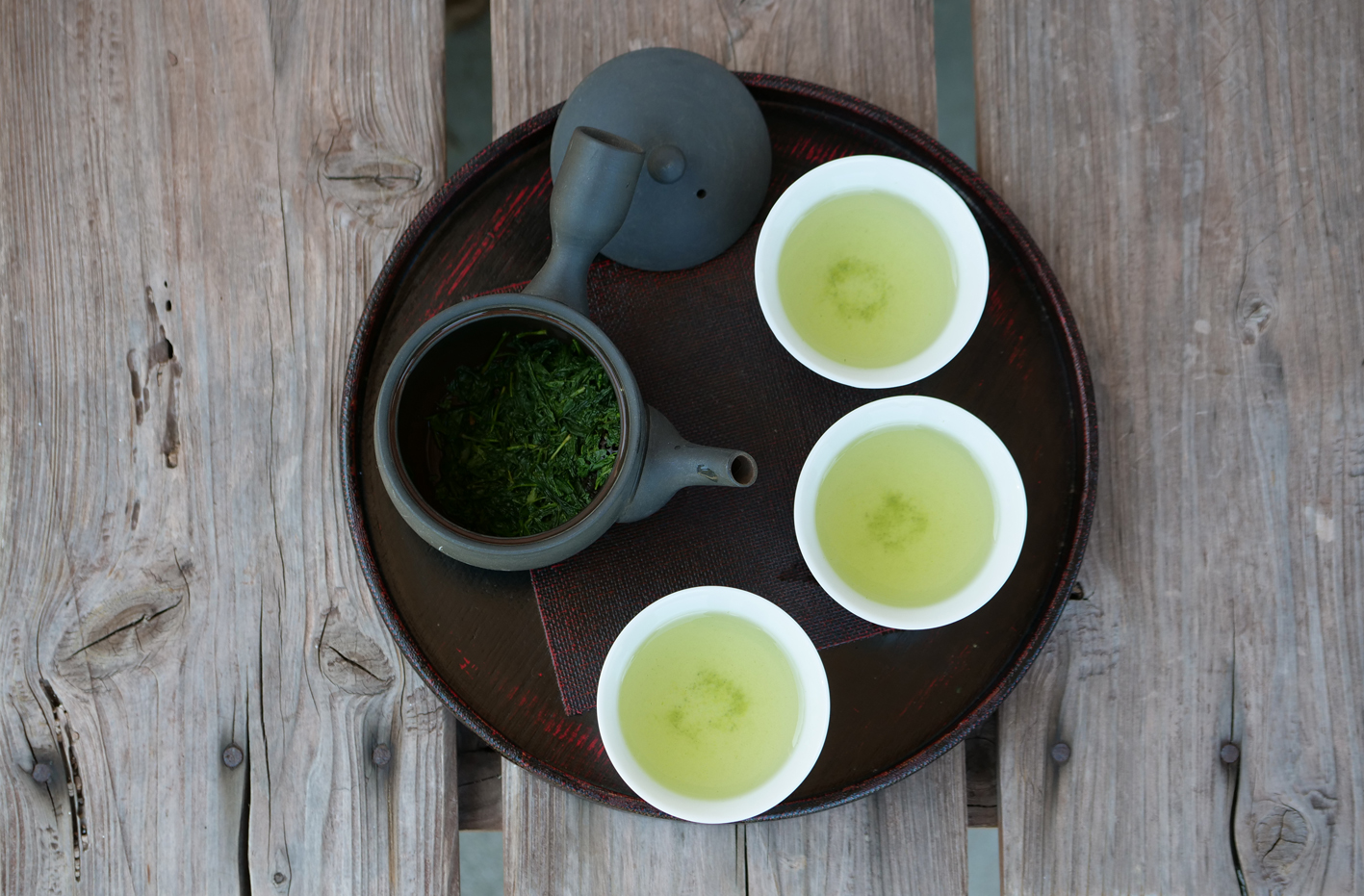 We sit down outside under two trees in front of the tea factory to drink tea and also to talk about current issues regarding our order and transport planning. After a short while, Keita's father Mankichi also greets us. For him it is a great relief that his son has moved to Yakushima with his family and is working in the tea garden..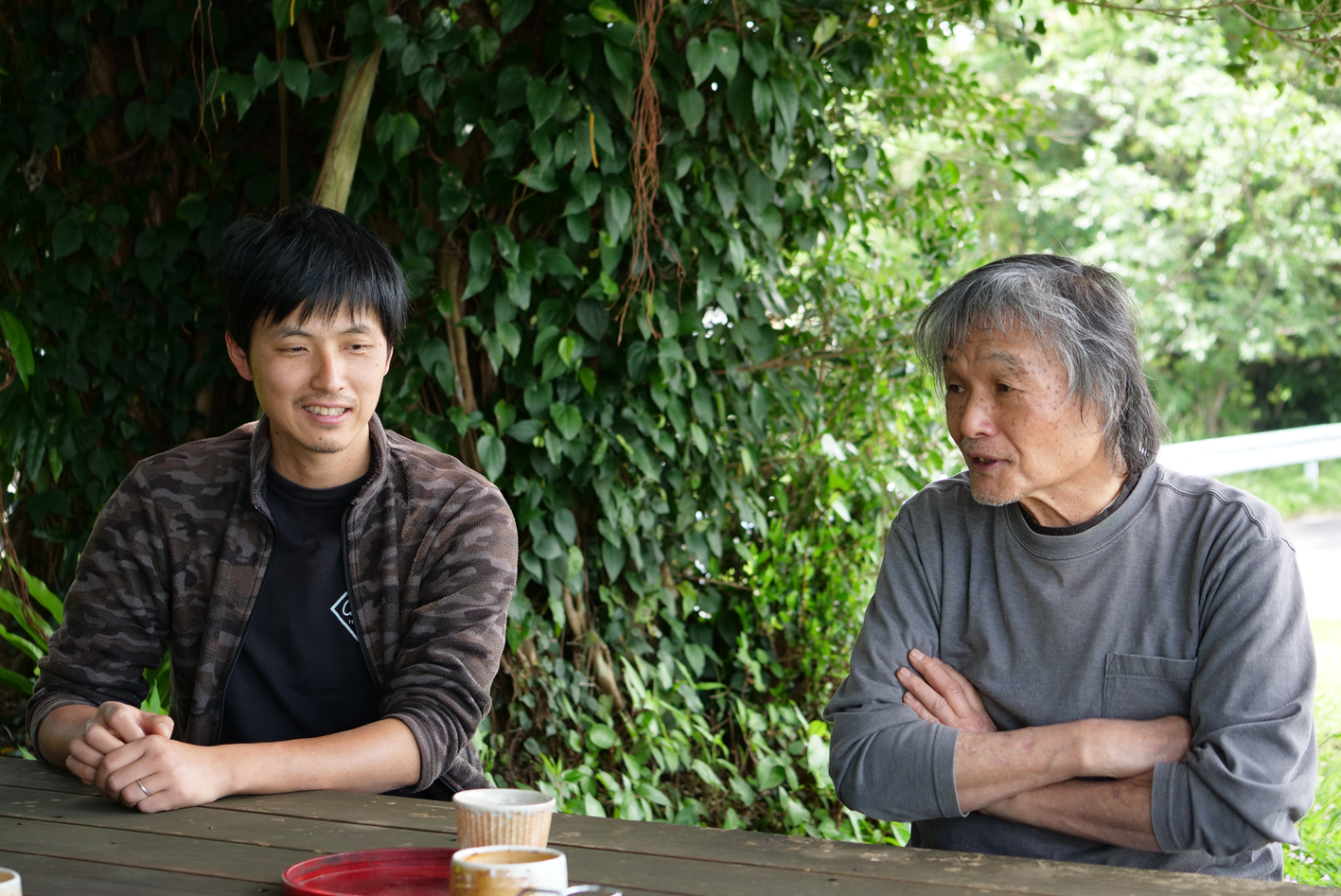 Keita brings in some new ideas. While Mankichi has practised organic farming from the beginning, Keita also brings ideas from Shizen Saibai. The ideas of Shizen Saibai go even more in the direction of local cycles. No fertilisers are bought in externally, but are produced on the farm as much as possible. For the Myô Watanabe Gyokuro, Keita relies on precisely this principle. The Sae Midori bushes for this unique tea are shaded for at least 21 days, but Keita produces its own special fertiliser from tea leaves left over from tea processing. On the one hand, this is tea dust, but also hard leaves that are sorted out. In addition, there is also cuttings from the deep pruning of the bushes. All this is composted next to the Sae Midori field and then gradually incorporated into the soil.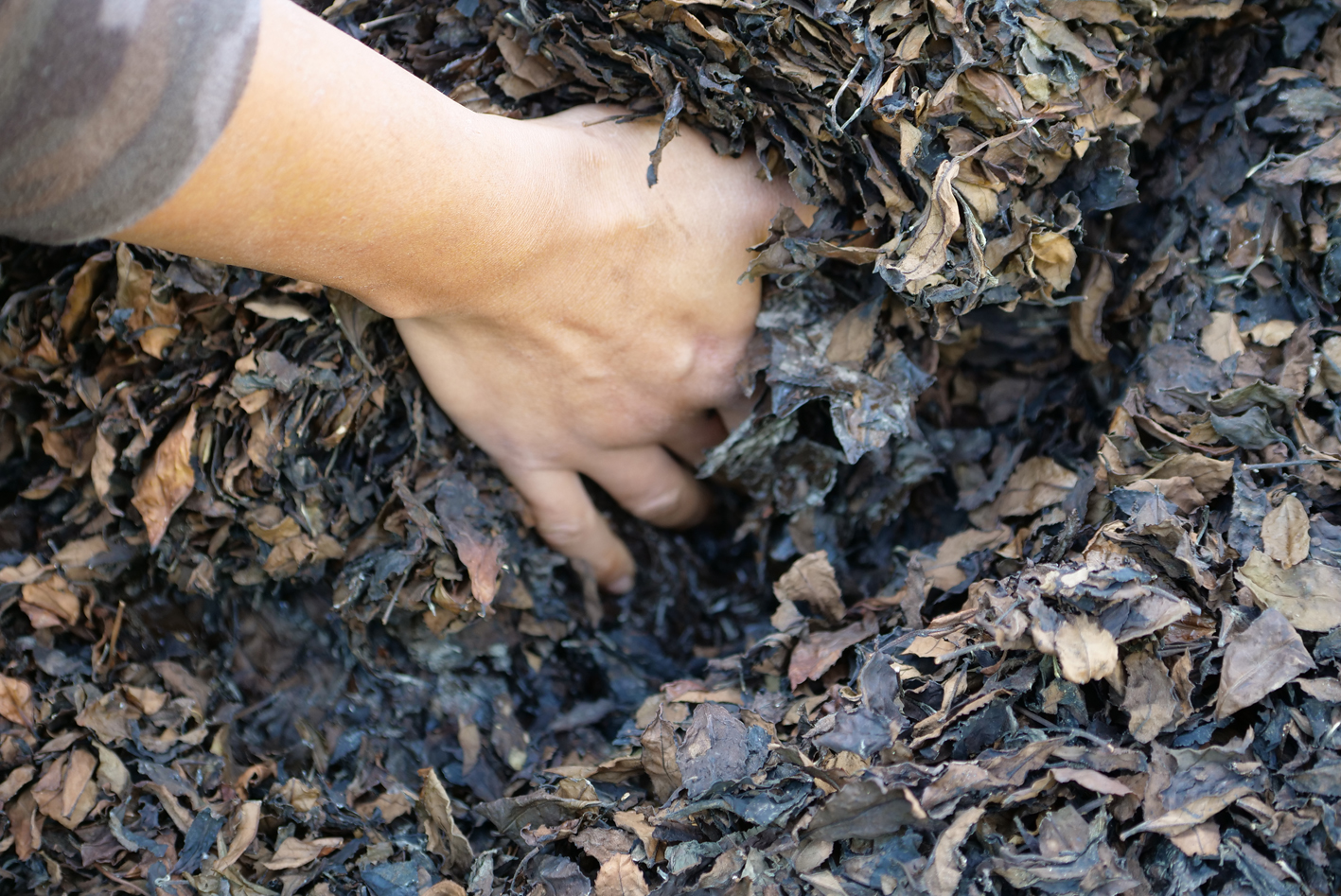 Today, he digs a little into this compost by hand to let us feel how high the temperatures are inside the compost. This special fertilisation produces a tea that does not impress with its exuberant umami, but rather shows the fine Gyokuro nuances and a truly versatile taste. Nevertheless, both the smell and the taste clearly indicate that it is Gyokuro, and the umami can also be clearly tasted. Keita Watanabe uses black nets in the production of Gyokuro for the first 2 weeks of shading, which block about 70% of the sunlight from the plants. For the last week of shading, he swaps the black nets for white, slightly denser nets that keep out about 85% of the sunlight, thus intensifying the shading. In terms of production volume, there is not so great this year. In many places the harvest quantity is very low this year. This was also the case at Sae Midori, so that the total amount of Myô Gyokuro was only 10kg. We are very grateful to get a third of that. But there is also good news. After no new bushes had been planted in the tea garden for 20 years before, Keita has added to the rows of Sae Midori this year, so that in 5 years a little more tea can be produced.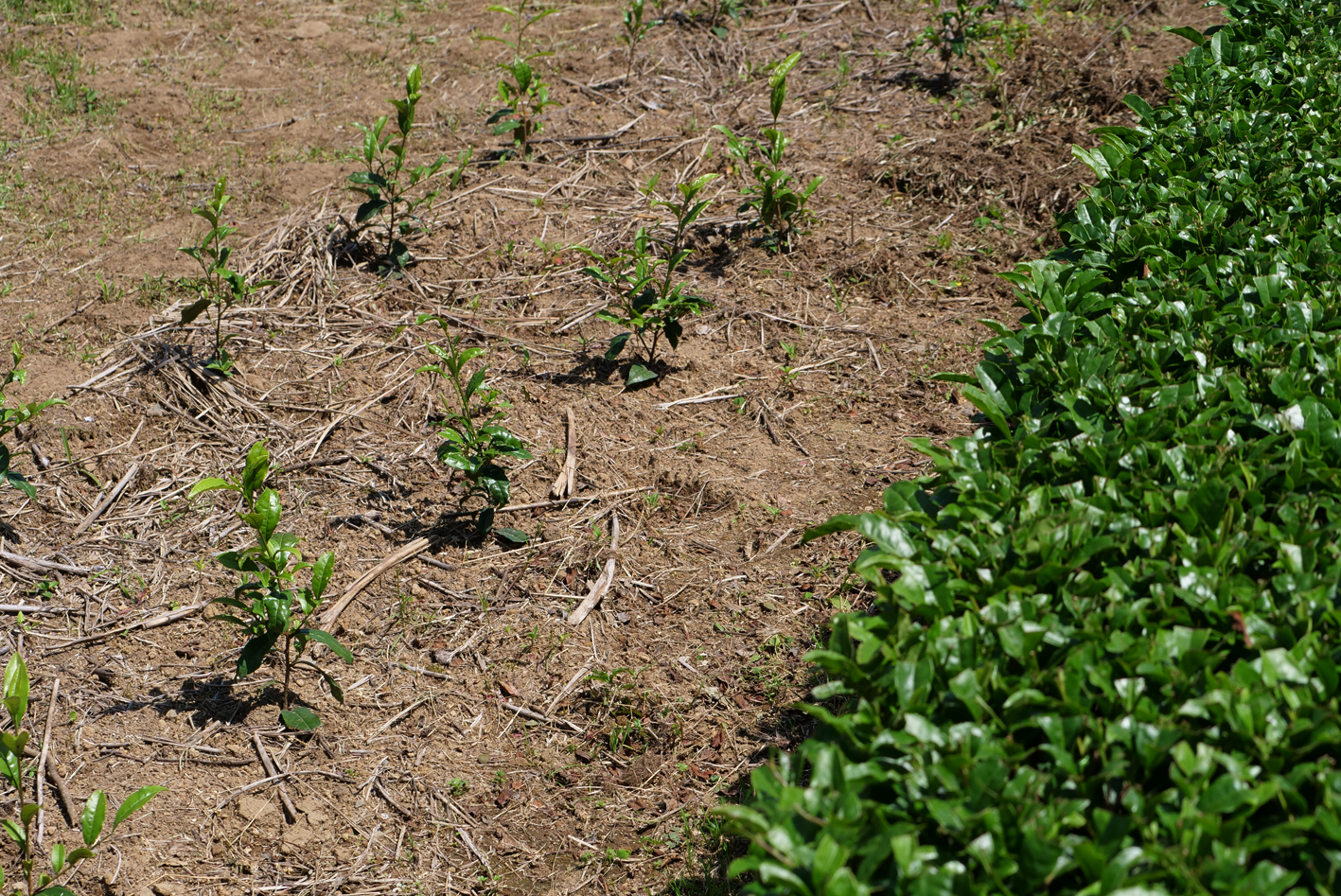 Last year, he also planted a new plot with a new, very flowery shrub variety. We are very excited about the new teas that will be created here in the next few years. But since the plants have to grow up first, we still need a little patience.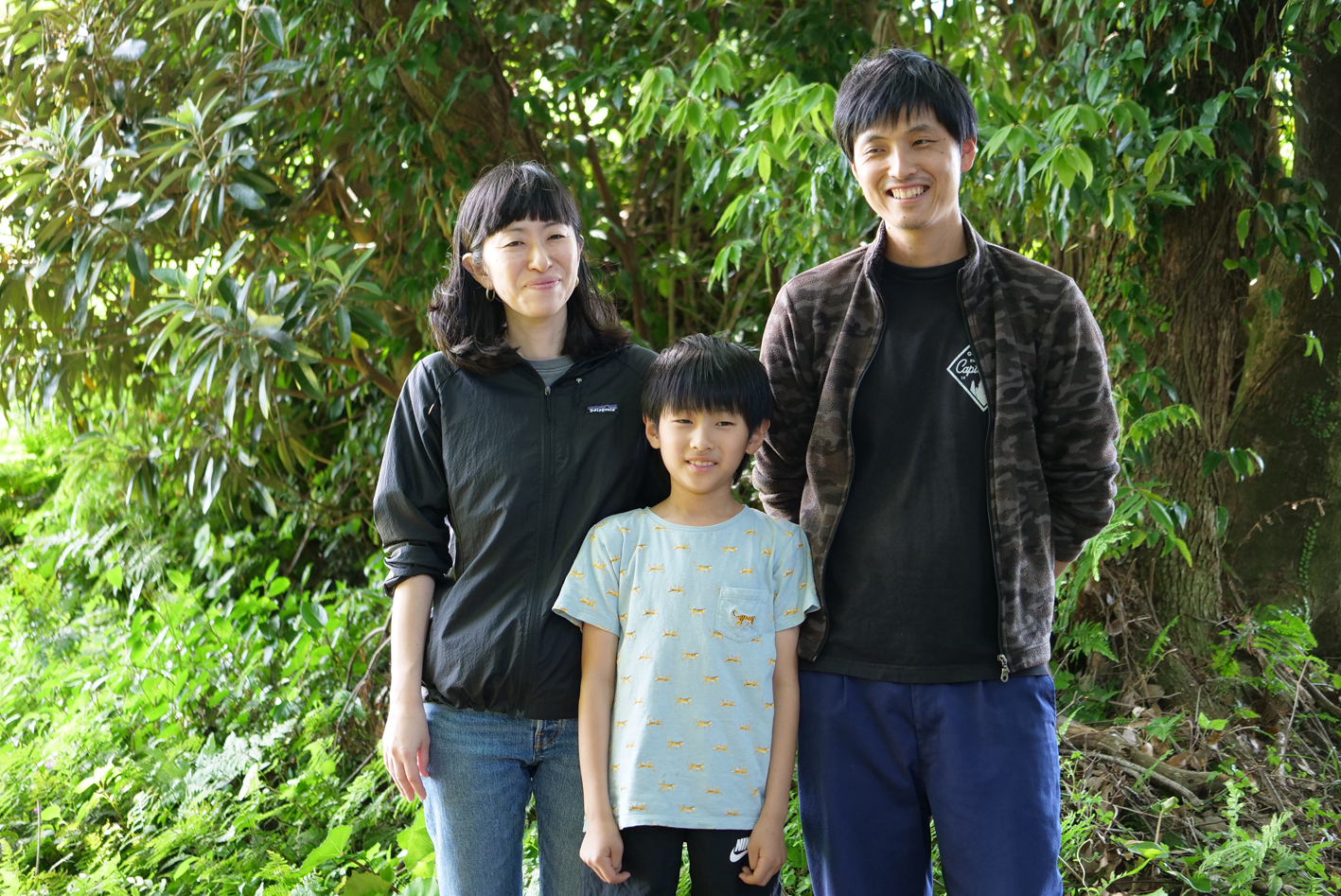 This year again, Keita made white tea, Haku-Dou, for us. In the past years, it was always made from Yutaka Midori. But this year, because a parcel of Kuritawase was ready for harvest so early and the white tea has to be made when green tea production has not yet started, it is from Kuritawase this year. To dry the white tea, Keita uses a drawer dryer that he originally bought years ago to dry the black tea. Of course, we had to taste the tea right away. Once again, we are very enthusiastic about this fine and very productive tea.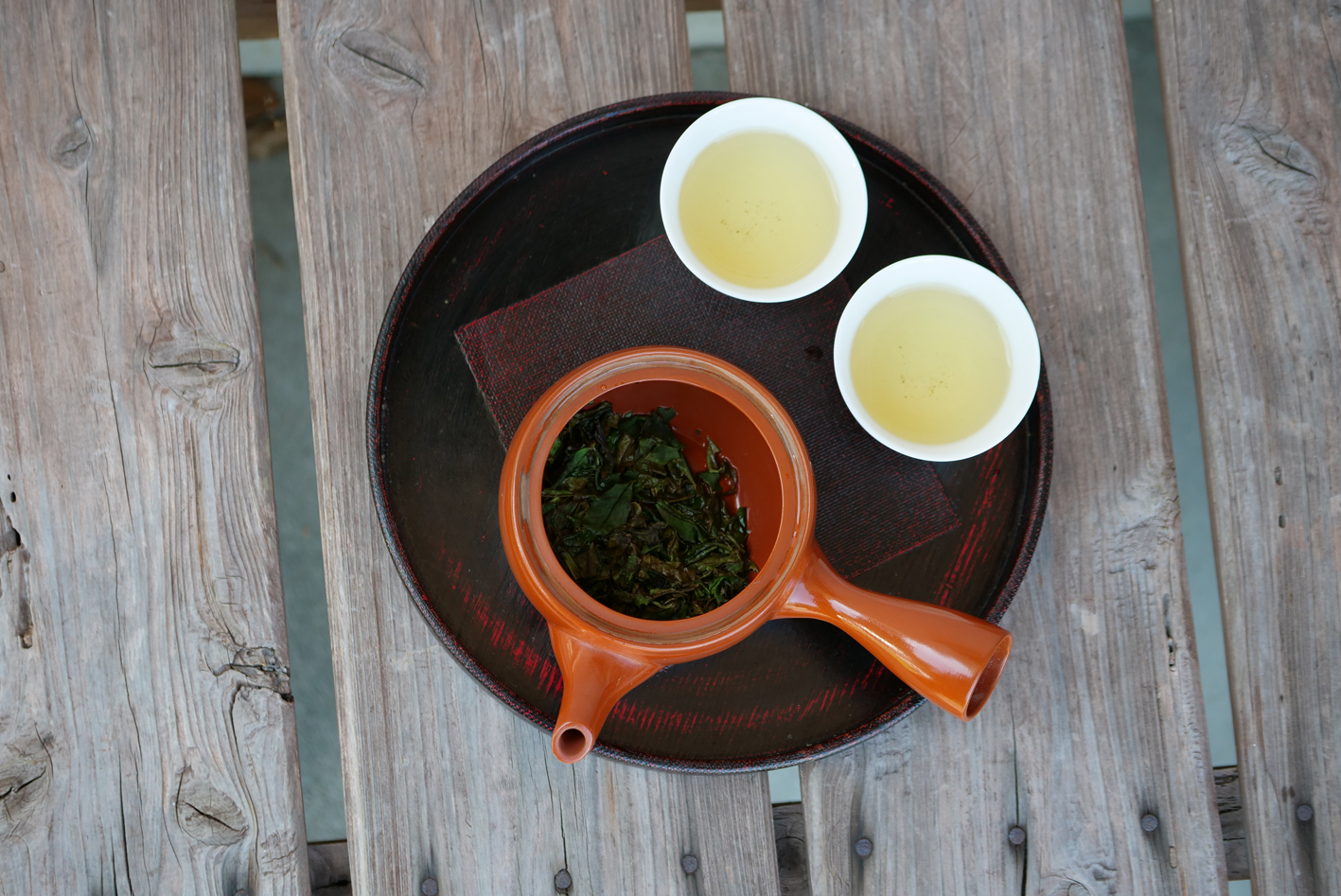 Our schedule is unfortunately very tight this year, so we cannot stay overnight. After a warm farewell to everyone and a request to come back to Yakushima soon, we make our way back to Kagoshima City in the evening.